Edwin Van der Sar generally goes about his business quietly, albeit with a smirking expression of contempt on his face. He's been in the news lately, however, thanks to an unbeaten streak stretching to 1031 minutes. He already has the new Premier League record, and can break former Reading keeper Steve Death's English record if he remains unbeaten for the first 73 minutes against Everton on Saturday. After that is Chris Woods' British record, set while playing for Rangers, and finally the world record, held by Atletico Madrid's Abel Renso, which is still a few games away.
Another keeper enjoying a splendid campaign is giant American Brad Friedel (below, bald), who has been acknowledged by manager Martin O'Neil as an important part of Villa's astonishing rise to the top four. Brad struggled in his first few games with his new side, but has been in typically excellent form ever since. It's beginning to look like Villa could be playing Champions League football next season, which would be a wonderful crowning achievement to the Ohioan's career.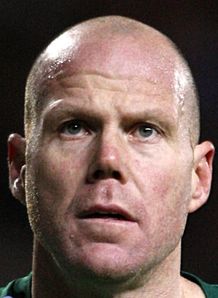 The news is less good for Lazio keeper Juan Pablo Carrizo, currently under fire for back-to-back pastings. The former River Plate hero is finding SerieA somewhat less accomodating, though the criticism aimed at him seems to ignore Lazio's leaky back four. He was not at fault for any of the seven goals stuck past him by Sampdoria and Cagliari, but that has not stopped Lazio fans - the same people who ran Alessandro Nesta out of Rome, it should be noted - from howling for his head.
It's the same old story: most goalkeepers who change leagues need time to adjust. We saw it from Pepe Reina, Gomes, and Friedel himself. Carrizo is loaded with ability and simply needs a few good performances and results to go his way. If Lazio run him out of town, they'll regret it one day, as they surely did in the case of the imperial Nesta.