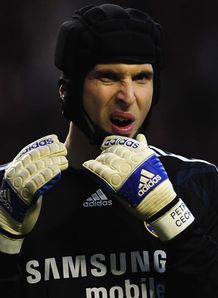 The latest goalkeeper to come under question is Chelsea stalwart Petr Cech. After four impressive years in West London, things haven't gone quite so swimmingly the past few months. First there was the disastrous clanger at the Euros that condemned his side to elimination. Now, after a bright start to the campaign, Chelsea have stumbled, and Cech has not been spared his share of blame.
Manager Luis Felipe Scolari - perhaps in an attempt to shift some of his own growing pressure - pointed the finger at Cech after the 2-2 draw away to Fulham. He also came in for some questioning after Nemanja Vidic's opener for Manchester United in the 3-0 pasting at Old Trafford that put Chelsea firmly on the back foot in the title race.
Whispers around the Premier League are that Cech has not been quite the same following his ghastly head injury two seasons ago. It's one of those self-actualizing criticisms: because of the head injury, people are looking for mistakes, looking for evidence he's not the same keeper he once was. Any mistake is therefore seen as proof of this. The problem with this logic is that it ignores the fact that every keeper makes mistakes, and Cech himself made a few even before his injury.
Cech may have hit a dip in form, but he's still capable of turning in dominant performances. The truth is that it's his team which hasn't been the same. Chelsea were a stifling defensive unit during his first two seasons, but have become less so with the addition of overlapping fullback Ashley Cole and the loss of William Gallas (prior to his baffling antics in an Arsenal shirt).
Cech is still young. He had a bit of a dream introduction to English football, with a Chelsea side who simply outmuscled the rest of the league. Those days are gone. With Scolari's job in danger, Drogba unsettled, and Anelka unhappy, Chelsea will need their giant young keeper to find his best form again in a hurry, or it will be another trophyless campaign.