While the majority of American keepers who succeeded abroad did so in Europe, Jonny Walker followed a different path. He went to South America, excelling with two of Chile's biggest clubs. He won a league title, played in the Copa Libertadores, and experienced the raw passion and spectacular atmospheres that European leagues cannot hope to match. Thanks to Jonny for spending some time answering my questions. Let's let him tell his story in his own words:
-->
Most Americans looking for a move abroad went to Europe. You were the first to go to a top-flight league in South America. How did that move come about?
I was drafted by Dallas in '96. They had a fantastic goalkeeper in Mark Dodd (I still talk to him to this day), and the club had also drafted fellow U-23 keeper Jeff Cassar. Dallas wanted to change my contract from the standard league minimum ($24k if I remember correctly) to a developmental contract ($1200 per month maybe??). I was stubborn, so I went back over to Sheffield United around August in '96

in England where I'd had a youth trial 2 years earlier. They were ready to go, but I was unable to obtain a work permit. The rules had changed with the post Bosman Ruling (Dec. 1995) atmosphere. I had no direct European ancestry to obtain a EU passport and would not qualify for the new National Team requirements which would morph into what they are today. So back I came to the States in January of '97 with a mission of playing matches. I knew that I needed games so I mailed my resume (funny isn't it?) out to every coach in the A-league. Jacksonville had a team (Cyclones) and they were coached by Manchester United legend Dennis Viollet. Viollett saw Sheffield United on my resume, picked up the phone and spoke with either Howard Kendall or Dave Bassett, who knew me from my trials period, and offered me a contract sight unseen.
While at Jacksonville, I met Jorge Alvial, who was the assistant coach. Jorge was a former professional goalkeeper from Chile, and he always had these incredible soccer magazines showing crazy environments from South America. Attendance for A-league matches looked nothing like what I saw in the magazines, so wanderlust took control and I was able to get out of my contract and headed off to Santiago, Chile for a trial with Universidad Catolica.
The Catolica trial took longer than expected (7-8 months) as I missed a transfer window and I was a foreigner with no experience. A big club like Catolica could not risk a foreigner spot on me with little experience (although they liked me), so they loaned me to Huachipato for the '98 season. After that it all came together.
What kind of cultural adjustments did you have to make? Did you speak much Spanish when you arrived?
I had two years of High School Spanish, so I wasn't starting from zero. Conversational Spanish was difficult, but I forced myself to go to the city center on days off and interact with shopkeepers, bus drivers, etc… I also roomed with a teammate in Huachipato (Cristian Uribe) who did not speak any English. Huachipato is in Concepcion, quite a ways from the Capital of Santiago. There were no parts of the town that catered to foreigners. The television channels were all local. It was total immersion, and it was great.
What sort of adjustment period did you go through on the pitch and the dressing room, in terms of establishing yourself as the number one and getting to know your teammates? You had to do this twice, actually, since you initially went out on loan.
It is extremely difficult no matter what club that you do this with. The dressing room psychology and group hierarchy structure could be the subject of volumes of books (edit - couldn't agree more; that's why I'm writing one). Initially, as a player, you just want the respect of your fellow players and coaching staff. It gives you the feeling that you deserve to be there and gives you self-worth. Once you reach that point, you naturally begin to crave more. You hear the fans chanting for certain players, and you want to be one of those players. You are constantly assessing fellow pros in your locker room and at other clubs, always asking yourself: "Am I better than him, or can I be better than him?" Goalkeepers are a bit different when it comes to establishing the #1 position, as coaches rarely make a switch in the position, and if they do they rarely go back on the decision. While at Huachipato I was waiting for a chance to play. The team was performing well, so I knew I had to sit. The other keeper injured his finger (not broken) and I got to step in. I performed well and could notice a change in the way the big name players spoke with me and addressed me within the group. I could also feel the dislike of the other goalkeeper towards me. This was completely different than when I was at Universidad Catolica. The starting goalkeeper, Nelson Tapia, was extremely kind to me. He almost treated me as a brother, giving insight and wisdom, even when things weren't going well for him personally. I always tried to emulate this type of relationship. I carried this with me to Colo Colo as well, when a young Claudio Bravo was my teammate. We got along very well and I gave him the best advice and friendship I could. He is currently the Chilean #1 and plays for Real Sociedad.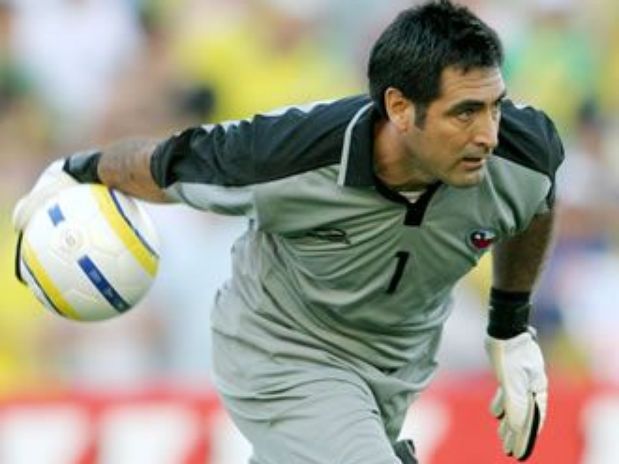 Nelson Tapia
You won the 2002 Apertura title with Universidad Catolica. What are your memories of that season?
I remember the extraordinary amount of talent that we had. Catolica was always loaded with some of the best South American talent that money could buy. But we worked incredibly hard for each other. We had one of the best teams in South America. We had a stretch of 700+ (I think) minutes without conceding a goal in league play. We were bounced by Sao Caetano in penalties in the Libertadores. We beat Flamengo home and away, and eliminated Once Caldas of Colombia, who would win the Libertadores a couple of years later. The team we advanced out of group play with was Olimpia (Paraguay) who won it all that year, beating Sao Caetano in penalties. We were a great team.
The title-winning 2002 Catolica team, with Jonny back row, second from right.
Eventually you went from Catolica to their greatest rivals, Colo-Colo. did this cause you problems with either set of fans?
Absolutely. My first press conference at Colo Colo was disrupted by members of La Barra who were screaming that they didn't want the "mother fucking gringo from Catolica" amongst other loving phrases. The press ate it up. It wasn't easy, but fortunately I won them over with performances on the field. We had the Superclasico against Universidad de Chile and I turned in a good performance and received man of the match honors. After that game, they supported me 100%. Ironically, I would face Catolica in the semi-finals while playing for Colo Colo. The fans who had loved me for four years did an about face. 20,000 Cruzado fans singing "Gringo, Gringo Concha Tu Madre……. En San Carlos(Catolica's stadium) le damos a comer". Translated "Gringo, fuck your mother…In San Carlos we gave you food (or we fed you).
Back problems forced your eventual retirement. Can you describe how and when your problems started, and how it felt to be forced to give up playing?
I had just begun to feel good playing again. I found happiness in my play in Columbus, after injuring my shoulder in New York.

Sigi Schmidt had been announced the Head Coach after Robert Warzycha had coached interim following the departure of Greg Andrulis. Sigi called for a mini-camp at the end of the season and we were playing an inter squad scrimmage. Someone played me a ball that had to be cleared first time and as I was about to strike the ball, it took a funny bounce and I tried to adjust my strike of the ball even though I had already started the movement.
Mentally I was excited to be playing again and was called into the December camp for the 2006 World Cup.

I was working out on my own, but my back wasn't getting better. They took an MRI and I was going to miss the camp. Then they sent me to one of the best doctors in the country for lower back issues in L.A. a month or two later. Without boring you with all of the details, I was effectively told I was done and that there was nothing that I could do to step on the field again. This was extremely difficult news to take, as I had just turned 31 a few months earlier. I was in a good spot mentally before this and was finally at a place where the game was easy. Goalkeeping is experience-based, and most goalkeepers don't come into their own until 28-32 years old. I tried to exit with grace and without fanfare (not too hard actually!) Once I knew I was done, I went into the clubhouse one day with a black garbage bag, cleaned out my gear, and didn't make a production out of it. "Here today and gone tomorrow" is the way that soccer works. Contracts come and go. All of us hope that we have a respectable career and that when we walk away from the game it is in a way that celebrates the contribution and effort that one puts in through the years. It doesn't always work that way.
For a time, you wore Selsport gloves, rare for an American keeper. What were your alltime favorite gloves?
I loved the Selsport gloves. They were white with a powder blue foam. Probably my favorite gloves I had during my entire career.
Jonny in his Selsports
In keeper speak I was a traditionalist. Classic cut, size 11. No extended palms. No finger inserts. No Gunn Cut. No webbed foam. I always preferred the 3mm foam to the 4mm for better feel on the ball. I could talk gloves for hours on end, as I was a big soccer fan before I became a pro. I grew up watching Soccer Made in Germany on PBS, and I was always drawn to the neat gear that everyone had.

The first gloves I really remember would have been the Reusch '86 World Cup gloves. They had a compressed foam, with a circular palm design. Coolest feature was the neon slash on the R. I also remember the Umbro Essen, neon green with white foam. Pat Bonner was sporting them and they were definitely a must have.
Pat Bonner in his Umbro Essens
My alltime favorite, however has to be the Uhlsport F-1. They didn't have the best feel or foam, but my God they were badass looking. Blue and white foam on the palm. Neons and blues on the top. I would love to just see a pair of these today.
Peter Shilton in the F-1s.