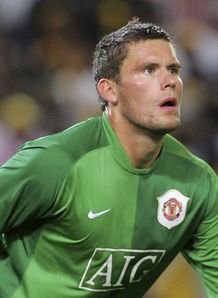 I love summer, except for the dearth of soccer to watch. But summer means transfer news. Ronald and Kaka may have demanded all the attention, but goalkeepers have made the news too.
Ben Foster committed his future to Manchester United, signing a four year contract. Sir Alex Ferguson finally seems convinced that Foster is the long term successor to Edwin Van der Sar. What this means for Thomas Kuczs...Kuczs...you know, the other guy...remains to be seen.
Ross Turnbull has joined Chelsea, and optimistically stated his desire to press Petr Cech for the number one shirt. Best of luck with that, Ross.
Gregory Coupet's nightmare spell in Spain has ended. The former French international is returning home to play for PSG. Coupet will step into the number one shirt vacated by Mickeal Landreau's departure to Lille.
There was talk of Victor Valdes leaving Barcelona, but following their Champions League triumph, he signed a four year contract extension.
These are certainly not the last of the summer moves involving goalkeepers. Juan Pablo Carrizo is said to be unsettled at Lazio, and Mariano Andujar of Estudiantes is rumored to be on his way to Catania. In the meantime, I'll be reviewing new glove models in coming weeks, starting with the HO AquaGrip4. Preview: it's fantastic.